Hey guys, Hope you enjoyed and learned something from my video and please don't hate me for my english.It's not my first language :p
Here in this video, i explained and gave you 10 reasons to build an email list for yourself. (Believe me there is a lot more than just 10 reasons…).I'll note those down right here:
10 Reason You must Build an Email List
You can make money directly by selling products to your email list
Your email list brings new prospects into your sales funnel [i'll discuss what is funnel etc in more upcoming videos]
You have direct communication with your target market.
Your subscribers get to see your personal side.
Your subs gain access to content and offers that are available to your list only.
You can use your list to build a stronger relationship with your market/niche.
A large and responsive email list is your BIGGEST ASSET to your business.
You can get direct feedback from your customers. (if you have an ecom store or if you are selling your won product then this is a great benefit.)
You can get to know your customers/leads better.
Your competition is probably doing email marketing but are not doing it well or doing it wrong.Maybe they are not doing it at all and you can have a great advantage right there.
If you are not building a list,then you are seriously making a HUGE mistake! Seriously i can't stress this enough.It doesn't matter if you are doing affiliate marketinf,CPA,ecom,amazon whatever… you MUST build it! You have no other Option!
I showed you one of my cpa account over $30k earnings in that one network alone.Can you imagine the traffic i got to earn that amount (the earnings was per lead basis and not of sales).
What if i had access to those thousands of visitors right now?
What if i had control of that traffic?
I am still frustrated by the fact that i didn't work on building my list back then.
I thought why to build a list? i needed views and more views is more money…right? Well yes to a certain extent but by now you already know what if i had those thousands of visitors on my pocket (ahem…i meant on autoresponders – where you build and store your list).
Right Now, i have realized my mistake and am striving to build an awesome email list for myself which will be my biggest asset overtime! As you can see in the video above, i am not a big authority on email list to talk about it (you may think it as small mouth big talk but i have 100 subs and i already felt the POWER those just 100 subscribers in my list.
It is an on-demand traffic and once built, it's truly a real push button money making machine.That being said, you should not burn your list…i mean you shouldn't spam your list to death with offers day-in day-out.You should send them tutorials,freebies,and Good offer recommendations i.e. Bring them VALUE and they'll love you forever and buy from you forever. You noticed those amazon emails with coupons,offers? or those ebay mails? they have a huge list and are making billions.You are not that big but what if ou can even tap into 1% of those traffic which is possible 🙂
By now you should've realized the benefit, the advantage of having your own list in your arsenal.
Okay i get it Abhijith…but..but how do i make it? how do i create a list!?

I heard you! I'll point out some basics that you need to know about list building here and what do you need to make it happen.I'll go into details like how to setup email capture landing page in like 2-3 days from now with all the details and explanation.
Right now lets go into basics and see how it works..okay???  Let's Go!
How Email List Building Works
The basic of how to do it is already shown in the video that i shared in one of my previous post but i'll show it here once again:
Traffic -> Email Capture/Squeeze/Optin Page -> Offer 
And that Emails you get are stored in your autoresponder service.What is Autoresponder? wait i'll tell you..bear with me for a while.
Email -> Autoresponder -> You send more emails and makes sales/leads
This right here is a simple funnel but there is much more to it and i'll explain it in a later post that i'll do in couple of days.
Ok so you've asked what is Autoresponder? Simple…as name suggests it responds automatically to your subscribers the way you set it.Say you have setup 30 days worth email in your autoresponder service and every day your subscribers will get mails from you hands off! If a new subscriber gets in – he'll automatically receive those emails in a timely manner…How cool is that?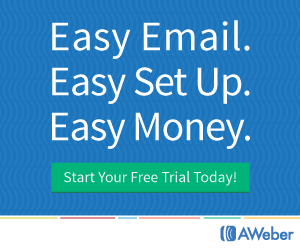 There are many of the autoresponders in the market to choose from but amongst them only 2 are the big daddy email marketing platforms.
GetResponse and Aweber.I personally use Getresponse but they both have 30 day trial so that you can try! Infact i will suggest get into a free trial for one of them first and then different one the month after and you'll have 60 days to play with it 😉
So wait for my next posts as it'll be some awesome working methods that are working for me right now 😉
And please comment below if you liked the post and subscribe to the list so that i can send you updates on ProfitNotch.
Regards,
Abhi